a heart shaped leaf - taken by me
I love that I got both my assignments in by the due date (5 pm today). I could not have done it without my babycakes. I dearly love the support, the encouragement, the dinner drop offs, the listening ears,the sympathetic hugs and most of all I love that he can see through (and not take personally) the 'crazy chick breakdowns' and the tears, and the irrational phone calls.
To sum it up today i much love the people in my life that can get over the little shit, and see through the weird/strange/rude/depressed/not so great moods i have been in.
Thanks to all you people, you are truly much loved by me xx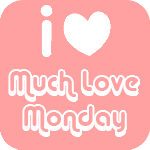 have a little look or join in to share you loveliness